OK, so I am not thrilled that these two little boys keep getting bigger and bigger...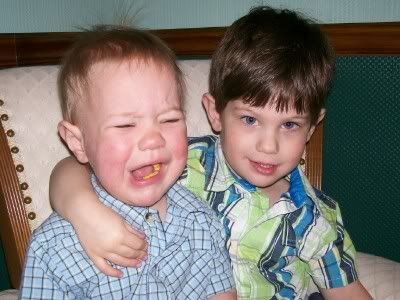 Easter 2007
I love this picture!
You have to appreciate Garrett's always red cheeks, his
crying (due to Parker touching him), and the goldfish in
his mouth. Parker was an absolute
gem
that
afternoon...he smiled, he tried to get Garrett to smile,
and was pretty much appalled with Garrett's behavior;)
Easter 2009
They are too cute, but are getting too big!!!
I wish time would stand still...Garrett is now as
big as Parker (actually, a pound or two heavier).
They bicker, they annoy each other, but in the
end they are always pals.